Vision
"Independent mechanical watch brand, providing customers and their loved ones with inspiration and feeling of trust following everchanging market requirements and creation of best form of affordable mechanical watches in people's lives."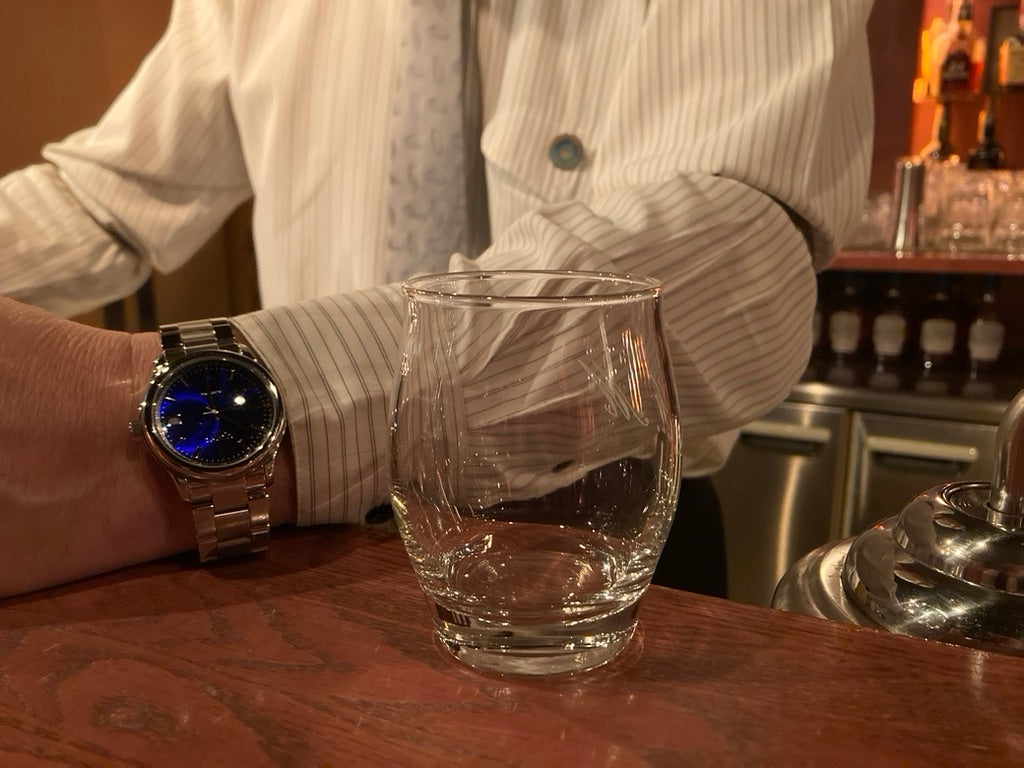 "I recognize I.TARU Classic as very high-quality watch at first glance. Brightening SUS316L stainless bracelet is my favorite one."
Yoji Shimizu, 72 -  MD of Mr. Good Bar at Akasaka, in Tokyo
I.TARU CLASSIC
Japan made automatic sunray blue dial watch. Dome sapphire crytal, SUS316 stainless case and bracelet.
Discover
I.TARU CLASSIC GAUGE
Beginner's unisex automatic in business casual style, featuring thermally blue steel hands. It is lightweight and can be used as women's oversized watch.
Discover
News
9th Dec 2023

We will hold our reservation-free showroom at a showroom in Azabu-juban, Tokyo, Japan, limited to one day per month.

14th May 2023

1 day pop-up store was held togetier with mataNoir in Osaka, Japan. For more info, see Japan NEWS.

5th~31st 1st 2023

Article about I.TARU 1 day pop-up was introduced by WatchLIFENEWS. (Japanese only)
- I.TARU story -
Japan-made automatic watch born from the business scene.

The founder, like his father, is a maritime expert currently based in Japan. We believe that both durable digital watches used on board, and automatic wristwatches worn for rapport building with international clients, must be reliable for their respective purposes.

Through numerous experiences in the domestic and international maritime business and relationships with clients, this belief was deeply ingrained. Especially, automatic wristwatches have played a role in breaking through difficulties in hard negotiations and new rapport building.

Meanwhile, wearable devices like smartwatches have been rapidly spreading. Also, price of precious metals used in luxury watches continue to rise, making luxury automatic wristwatches less and less accessible. In the midst of this, we believe in what we can do for the future. From the watchmaking industry that still remains here in Japan, with the cooperation of reputable domestic partner companies, we will gradually propose business watches that we are confident will instill trust in our counterparts during negotiation or business dinner in any business occasions worldwide.
Specializing in creating a positive impression in business while avoiding homogenization.

Watches have become a matter of personal preference. However, many watches may not fit in a business context. Even if we are satisfied with the fit and dial design when viewed head-on, it may not necessarily leave a good impression on counterparts with different generations and perspectives. Furthermore, the designs and movement performance that everyone uniformly desires are already released from many other companies. Therefore, we decided to focus solely on the essence of business watches, which is to 'leave a good impression on counterparts.' The features of the 'CLASSIC' collection are the 'compact and thick case design' and the 'polishing by craftsmen crafted even in luxury watches.' The reflective surface of the curved lugs stands out in particular.

As we know, smartwatches and wearable devices are rapidly encroaching on watch market, especially quartz watch market. we believes that efforts to redefine the traditional automatic wristwatch contribute to the value of a trusted timepiece and the revitalization of the watch community.

We do not believe that the 'compact and thick case design', which was sometimes treated as unconventional in the past, will be accepted by watch enthusiasts. We recommend our collection specifically to those who want to leave an unprecedented good impression in business, taking into account your own wrist size and wearing comfort.
Classic. Quality. Pioneering. Affordable.

We offer I.TARU CLASSIC as an entry-level automatic watch, combining affordability, high quality, and a commitment to continuous improvement. This falls within a price range accessible to growing population of smartwatch users. For next several years, we will focus on providing models in entry-level price range. To cater to diverse preferences, we plan to introduce models with different movements and even ladies' models within several years.
Additionally, we will venture into automatic watches that incorporate new metalworking technologies that have seen limited adoption by other companies.

Movement of the I.TARU CLASSIC is powered by renowned Citizen-made MIYOTA Cal.8215, known for its reliability and performance. While case design should be simple, all stainless steel materials are made of SUS316L, and glass is equipped with sapphire crystal. Cases and bracelets have undergone high polishing, and all items have undergone required waterproof testing by our domestic Japan-based partner companies. Leveraging the characteristic of MIYOTA Cal.8215, which allows for cost-effective replacement of the entire internal mechanism during repairs, I.TARU watch keeps maintenance costs to a minimum. By replacing the movement and performing various inspections, including replacement of waterproof gaskets, every 3-5 years, you can continue to enjoy your I.TARU watches for a long time.

We will continue to propose watches that strike a balance between the brand's identity and the needs of our customers.
The four triangles in the logo

The four triangles in the logo represent the four concepts encompassed by the I.TARU watch brand: 'Brighten,' 'Elegance,' 'Sad,' and 'Sustainability.' These are the keywords that I.TARU believes are essential to embracing people as automatic wristwatches in a society that always looks ahead to 30 years in the future.

These four keywords may evolve over time to align with the changes in society. As a brand born in 2022, I.TARU aims to continue to embody what is required of automatic wristwatches in a rapidly changing society.
Brand Owner
Wataru Ishida, representative of ISHIDA C&T OFFICE
We have experience on how effective "automatic business watches" they are for rapport building with both new and existing clients worldwide for last 15+ years in global shipping whilst smartwatches became more common even in business occasions just for one decade.